Veterans of RAF Greatworth Reunion 2012
I think everyone enjoyed themselves last Wednesday, the reunion was supported by a total of twenty people, tho' only 19 sat to lunch. As yet I havent had a head count, but I know one was done (if I could have a copy? then I'll post it in here.) We didn't get to see the Aston Martin's but Tim Samways and Angus Watt's VW Campers were most accomodating. It is a sign of the times that the general appearance of the site has all but lost completely it's former military smartness that we once were persuaded to maintain, but it is still enough to remind ourselves of the 'holiday camp' that RAF Greatworth once was in the sixties (Well, when I was there, anyway!)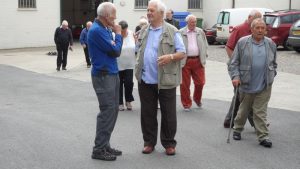 As you can see in the photo, we enjoyed a good 'walkabout', the people we met on the site made us very welcome and it seems they enjoy working there as much as we did back in our day. Angus Watt's refurbishment and rebuilds of old VW Campers seem to be doing very well for themselves (in our gallery they're seen driving out in an old 'split-screen' camper!). Tim Samways, well what he had 'laying around' in there, he could start charging admission to see those! Tim's is the only part of the site that the buildings interiors are kept to 'our' standard, the only thing missing is the brown lino (and we don't miss that do we?). It is very clean, brightly decorated and lit, of course it is also very tidy. The cars it contained were beautifull, also shown in our gallery.
Triple Eight are still at the accomodation site, but their circumstances are different. They now are with Aston Martin Racing, I paid a flying visit the other week, to ask if we could visit. I was told that they had a very busy schedule during this summer, but was given a bussiness card and told that if I rang on the day, they could say better if we'd be able to visit. Which is fair play, keep not a man from his work, right? Well some of you will recall that I did phone 'on the day', regretfully they said, that a lot of the staff were away at a practice venue and so those on the site would be unable to welcome us in at that time. So we were unable to visit them, this time. It would have been nice, but we were tight for time too as it was time at that point to return to The Inn for our lunch.
A gentleman who signs as John and who served part of his National Service in 1959 as an RAF Police 'Snowdrop' at RAF Greatworth, left a note for me with Mark (landlord The Inn) attached to which were a large collection of b/w photos (now in our gallery, with the note). Many of the people in these photos are un named, it is hoped that maybe some names can be added? Of course any photo in the now quite large gallery that has an unamed person, could only be improved by adding their name (hint hint). John those photos are great and many thanks for them. How about a blog about your National Service career in the RAF Police? We'd be very pleased to read about it, historic stuff is anything to do with NS conscripts!!
Yes blogs, dialogue, not the bloke! Some blogs from reunion attendees, please? Tell us about it all. Everyone said to 'do it again' yeah, well, yes, I'd love to see you all next year again with whoever else comes along. I'm sure Mark will like the idea too. So yes we go next year too. Priorities are:- a date(and time), who'll be there, Liasing with the sites bussinesses. The last bit is the awkward one as they need to be seen beforehand, so someone local to them would be handy ? Ideas please…